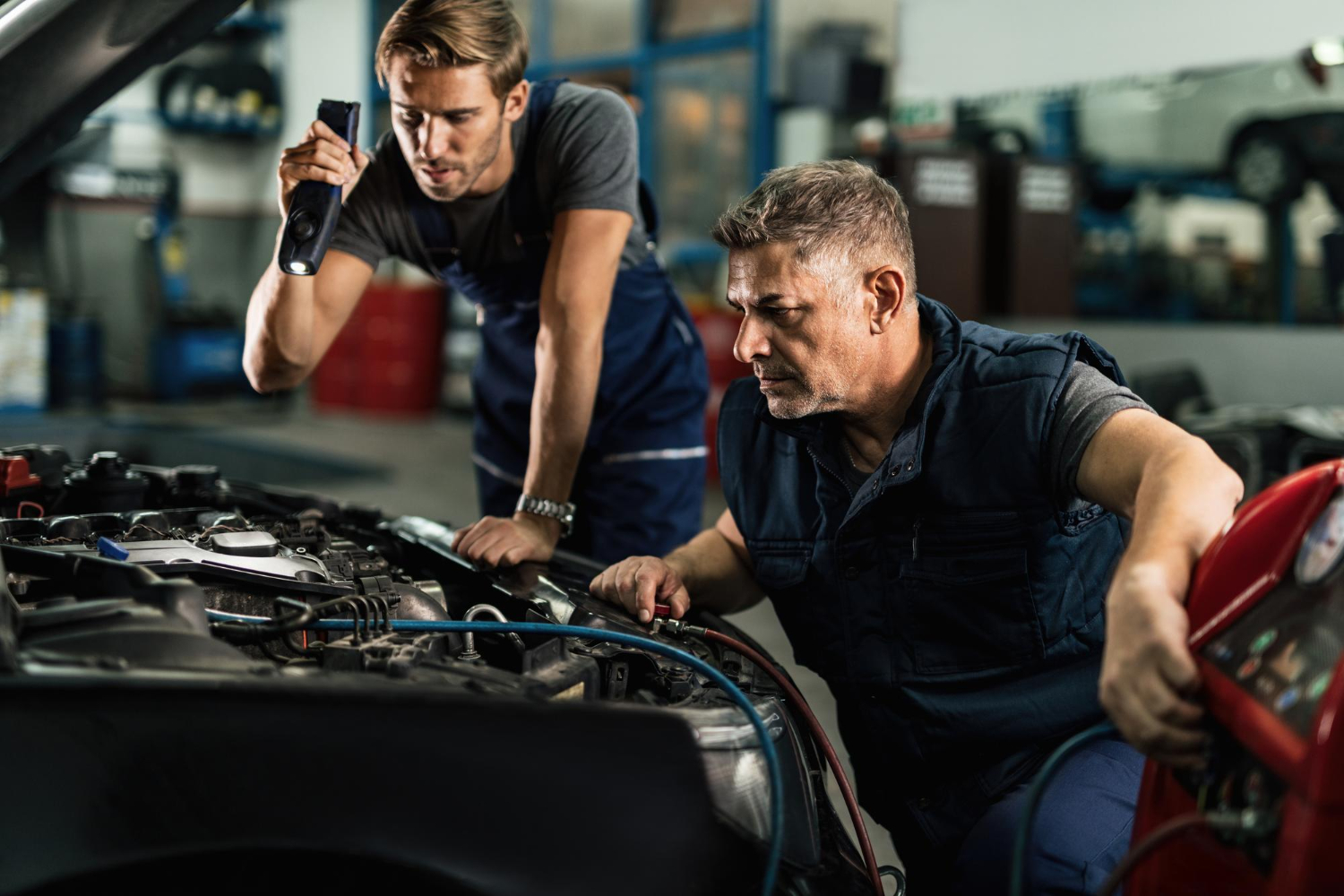 Climate control in the car is needed not only to cool the air, but also to cleanse the interior of odors and moisture
The malfunctioning of the system as a whole negatively affects car. This includes the possibility of engine overheating, increased fuel consumption, and accumulation of condensate.
Here are the signs you might need your A/C repaired
oily spots on the surface of the compressor;

increased noise;

poor efficiency;

frequent shutdowns of the compressor;

freezing of hoses, as well as tubes of the evaporator and filter;

overheating of the engine;

accumulation of water in the cabin,

bad smell.
If you notice any of the abovementioned signs please contact Starlight Automotive.
A/C repair
Car air conditioning repair in most cases is a delicate matter and requires experience and qualifications. During the repair readings from different compressor sensors are taken into account: manometric sensor, cooler temperature sensor, evaporator temperature sensor, electromagnetic clutch etc.
Starlight Automotive has extensive experience in repairing car air conditioners, so our masters know all the nuances of both old and new models. In the event of a breakdown of almost any complexity we will fix the car A/C quickly, efficiently and for a reasonable price. We will conduct an accurate diagnosis of mechanical damage, corrosion, contamination and other possible wear factors.
Oftentimes minor breakdowns create big problems and the air conditioner compressor can no longer function normally. It is not at all necessary to replace it with a new one, because the repair of an A/C compressor will be the only right solution. Small parts of the structure are often damaged and require replacement. We will not offer to buy a new compressor if only part of it can be repaired.
We use only high-quality certified parts so that your A/C car serves you for a long time. Innovative equipment and many years of experience make it possible to repair the air conditioner compressor quickly and efficiently.
A/C clutch repair
An important component of the device is a clutch - a part for switching temperature modes. Due to its constant use the need to replace the air conditioning compressor clutch bearing occurs quite often. Clutches can be of different types and vary in technical characteristics. Repair of the air conditioner clutch, regardless of its features, can be ordered at Starlight Automotive.
Reviews
There is no comments for service "A/C repair", yet. Leave a first review.
Leave your review
I recently needed an air conditioner repair for my car and decided to try Starlight. Not only did they provide a rapid, efficient service, but the quality of their work was absolutely first-rate. The mechanics took the time to explain what they were doing and ensured everything was in perfect working order. And the prices? Unbelievably reasonable. I was genuinely impressed and would recommend them to anyone
The brake light on my Hyundai Elantra needed to be replaced. I took it to a local shop and after an hour they still couldn't get the light cover off and told me to go to a Hyundai dealer. So by chance I called Starlight. After hearing my story they insisted I bring it right down. It took a couple minutes to figure it out but they were successful. The shop was well maintained and everyone there were amazing. I will definitely use them in the future. Oh and on further note they informed me that they thought my battery was dying. A few days later I noticed it wasn't turning over as quick so I had it checked. Yep it needed to be replaced. Thanks Starlight!!
Service was great! They were readily available on a Saturday afternoon when I called, fixed the problem in 10 minutes. It was a simple fix, they didn't even charge me for anything. Put air in my tires as well. Made sure my whole car was in good shape before I left- they checked my struts which another place told me I "needed" to have replaced. Took the time to explain to me what maintenance will be needed in the future, but isn't something to worry about now. Will be taking my car here again in the future!
Really great guys! Fast, efficient and affordable! Went in on Friday evening to drop off my Mercedes for a misfire, picked up my car on Saturday afternoon! Spark plugs changed and throttle box cleaned! Car runs superbly though I need to potentially change my gasket cover which will be done this Friday! I definitely recommend these guys! They know what they're doing. Special thank you to Yevin and Eugene for their exceptional customer service!
They did the diagnostics and work on my Chrysler minivan very quickly, I am very pleased with the price and quality of the work, I recommend it to everyone